Future Prospect
Publication Date :
Last updated:2021-08-12
View count:2040
Futrue Prospect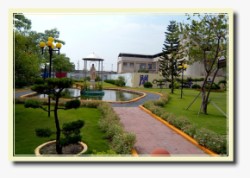 The number of approximately 850 inmates is present for the time being . Because of the complexity of inmates , a slightly negligence , a speculation on the security , and doubts about proper disciplining may occur plus all inmates` behaviors are whether in good order or not in which not only effecting upon entirety of inmates` rights and the whole discipline personnel's morale , as well as the public security to be closely linked .
All the colleagues acknowledge profoundly that this is a significant mission to be bore with . They are willingly devoted themselves to engaged in the task with the most meticulous care . Under the able leadership of all superiors , we become united in cooperation and work together to advance all affairs constructively , and to uphold inmates` stable sentiments continuously .
However , imprisonment is a multifarious and momentous operation and may be deficient and to be perfect is far from easy . Therefore , we sincerely appreciate superiors` in strongly urging and instructing us for advancement of our administration . Thank you .